What Are Nursing Clinicals Like?
When you're a student in our 16-month ABSN program, we get you started on your clinicals during the first semester, which isn't the case at many nursing schools. So what are nursing clinicals like in an accelerated program? You're about to find out.
"I was amazed at Xavier's program," said Greg, a current ABSN student who is slated to graduate in December 2018. "The very first week in the program, we did clinicals. We were in the hospital. You didn't have to wait."
No matter where you go to school, nursing clinicals are the heart of your education because they allow you to gain real-world experience in diverse practice settings, from hospitals to mental health facilities to rehabilitation centers.
Overall, clinicals are active learning environments where you perform tasks a nurse would typically do in any given situation — all taking place under the watchful eye of a clinical instructor or assigned preceptor. Nursing clinicals also help you develop your confidence in terms of applying your individual skills and working with others in interdisciplinary patient care situations.
It's also important to note that while we maintain clinical partnerships with some of the best health care providers in Cincinnati, such as Mercy Health, TriHealth, Cincinnati Children's Hospital Medical Center, and The Christ Hospital Health Network, we can't guarantee where you'll gain your clinical experience.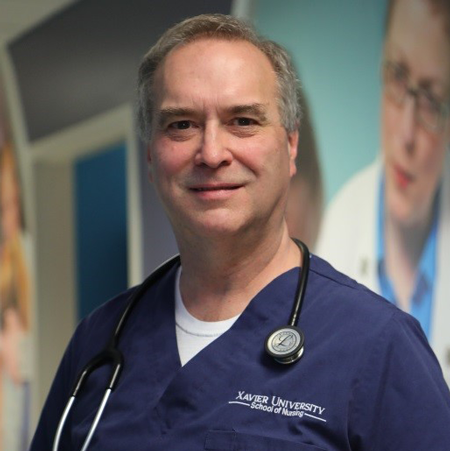 Basic Nursing Clinicals
As a Xavier ABSN student, your first clinical focuses on the basics of nursing practice, such as patient safety and head-to-toe assessments. And if you're like most students, expect to go into your first clinical feeling nervous until you get used to your surroundings.
Also, don't be surprised if you're uncomfortable every time you enter a new practice setting. After all, our ABSN students go to several different clinical sites during their 16 months in nursing school. For example, you might be at an acute rehabilitation center one term and then on the medical-surgical floor of a hospital during a subsequent term.
And should you come across an unfamiliar concept during a clinical, there's no cause for panic. Just be sure to have a small notepad with you at all times. That way you can jot down any confusing concepts and look them up later. Because even when you're not the person providing the care, you still need to observe and understand the clinical reasoning behind what's going on with a patient.
Advanced Nursing Clinicals
You'll find that each of our nursing clinicals supports a specific learning objective. While you're covering the foundations of nursing care in the first semester, we sequence your clinicals to follow a natural learning progression. So as your studies advance, your clinicals become more complex.
During your final weeks of nursing school, you'll participate in a role transition experience that allows you to gain concentrated clinical experience working alongside a preceptor. A preceptor is a registered nurse trained to mentor nursing students. You'll work the same shifts as your preceptor, and as you refine your nursing skills, you'll start to take an active, if not primary, role in patient care.
"By the end of the program, you're caring for the patient as a whole," said Lauren, a May 2018 ABSN program graduate. "[Your preceptor] expects you to be doing things like she [or he] would do them. You can't go into the role transition experience as a student. You have to go in as a nurse."
At her request, Lauren got into one of the oncology units at Mercy Health for her role transition experience. "I had always wanted to do oncology. [Nursing faculty] listen to what you want. They want you to be successful. They want you to be where you want to be in life," she said.
Lauren noted that oncology is a specialty area that new nurses rarely go into. "While on the oncology unit, I tried to make sure I was on the ball by doing my assessments on time, charting correctly, distributing medications properly, and educating patients." Her hard work paid off because Mercy Health offered Lauren a job in oncology before she even graduated from our ABSN program.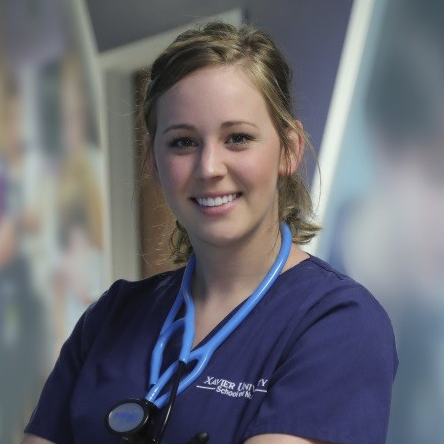 Network for the Future
Cincinnati is home to several prominent health care systems, and these facilities need nurses. So for ABSN students who stay in the area after graduation, there are plenty of opportunities to pursue.
While there's never a guarantee of employment, you should go into every nursing clinical with your best foot forward. You never know who might be a future reference or employer. After all, that's what Lauren did, and she got the job she wanted.
Brianna, a May 2018 ABSN program graduate, saw her nursing clinicals as great networking opportunities. She explained that when it comes to finding employment, a lot of times it's about who you know. "Making a good impression doesn't start during the interview process, it starts during clinicals," she said.
Let's say, for example, you completed a clinical on one floor of a hospital. Then after nursing school, you apply for a job on a different floor of that same hospital. If you did well during your clinical, the nurses and nurse manager you worked with could be key in helping you get the job.
"It's in your best interest to really put yourself out there and talk to all the people you can [during your clinicals] — the nurses, the nurse managers, and the educators on the floor," said Brianna.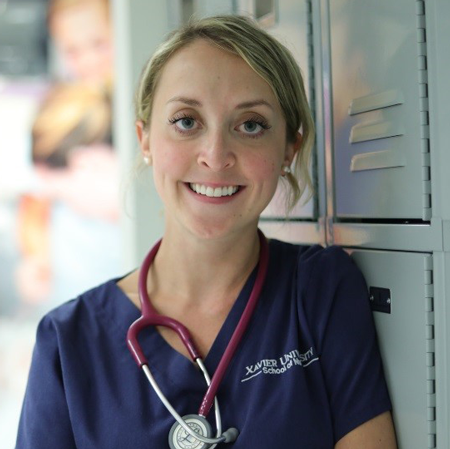 Final Thoughts
Overall, our nursing clinicals introduce you to a wide variety of patient populations and health care settings. So by the time you graduate from our ABSN program, you'll have a good idea of where you'd like to practice the profession. You may enter nursing school thinking you want to work in pediatrics, only to discover you actually like working with senior patients more.
To learn more about what the nursing clinicals are like at Xavier, contact our admission team today!
ABSN 101 Guide
Download our ABSN 101 Guide to help you successfully navigate the accelerated path to nursing.